Yoga Pricing
30 Day Introductory Special $30
New students only. We encourage everyone to take full advantage of this offer. Try us out for 30 days and when you're ready, you can sign up for the Monthly Unlimited Package below.
---
Monthly Unlimited Package $79
(Less than $5 per class when you attend 3 per week) For those that want to hang out with us every day! This is the most cost effective way to come and get your yoga on! This is an auto-account debit with a 3 month commitment.
---
Single-Class Drop-in $20
The single-class drop-in is good for any regular class.
---
Five-Class Package $90
($18 per class) This package is good for five regular class visits and is valid for 60 days.
---
---
Strength & Conditioning Pricing
6 Hour Foundations Special $60
The 6 hour Foundations Program is great for those that would like to gain more knowledge about our program. Whether you're new, or a seasoned athlete, you can never get enough instruction on how to improve your movements.
---
*Monthly Unlimited Package $139
If you want to work on your fitness every single day, this is the package for you! One of the perks of this package is, it INCLUDES UNLIMITED YOGA! This is an auto-account debit with a 3 month commitment.
*Special discounted rate for our phase 1 opening.
---
Single-Class Drop-in $20
The single-class drop-in is good for any regular class. You must have completed our Strength & Conditioning Foundations Instensive or have prior Crossfit or Olympic weightlifting experience and have been cleared by an instructor.
---
---
Private & Semi-Private Instruction
Interested in taking your practice to the next level? Our Private instruction can help you sort out the fine details, and develop your practice according to your body and your goals. Each body is different with unique histories. Expect to be challenged but with compassion. Great for the beginner to the more experienced practitioner.
Want to enjoy this experience with a couple friends? Bring them along. We also offer Semi-private instruction for up to 4 people.
Contact Us To Book An Appointment
---
Workshops & Events
We offer a great variety of Workshops that can take your practice to the next level, and Events that will fill your brain with some serious knowlege. Follow the link to check the current schedule.
View Workshop & Event Schedule
---
Rewards
While we don't hand out ribbons for attending classes, we do try to show our appreciation for your dedication to your practice and to our studio. If you like collecting those airline points, you're going to love Prana Vibe Points. Our rewards program is powered by Perkville. Earn points for attending classes, referring friends, and posting about your Prana Vibe experience on Facebook. See below for more information.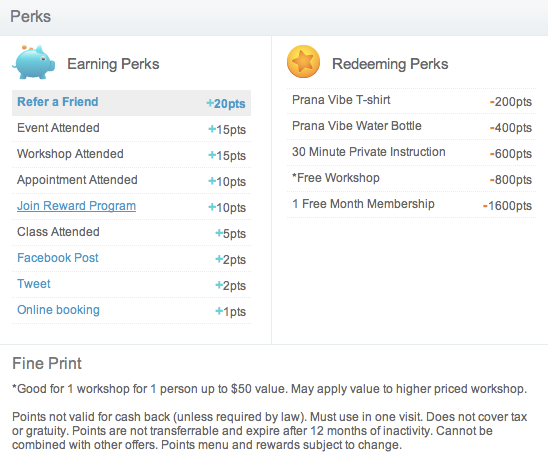 You'll receive an email each time you earn points. You can always sign up for Perkville directly at www.Perkville.com, just be sure to use the same email you used to sign up for Prana Vibe so you can earn points!
Perkville makes it easy to refer your friends to us. Let them know what classes you attend, so you can go together. Perkville will also send your friend a special deal to buy a trial membership when you refer them! They'll only have 48 hours to purchase the deal, though, and the countdown starts once you send the email, so tell them not to delay!
• UNLIMITED YOGA •
$30 FOR 30 DAYS
ONE-TIME ONLY
INTRODUCTORY SPECIAL.
This sweet deal starts when you
attend your 1st class.
Come check out our classes,
meet our instructors, &
find out what you've been missing!
---