Chris Bond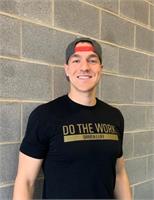 Chris has been a Crossfit instructor and holds both his Level 1 and Level 2 Crossfit certifications. Chris has a passion for fitness and using fitness as a well for people to improve their quality of life. He believes that lessons and movement training that can be learned in the gym will carry over to every aspect outside of the gym. Chris is a former Division 1 Ice Hockey player at the University of Connecticut and also attended the Washington Capitals Development Camp in 2010. He also is aspiring Crossfit athlete, looking to push his mind and body as far as possible.
Chris Bond instructs the following:
The class that put us on the map and and has kept us there ever since! Learn how to truly embrace being uncomfortable and unlock your fitness potential. HI-PER™ is based in functional movements performed at high intensity. You will be pushed to YOUR limits and will meet or exceed all of your fitness goals. Small class sizes enable us to help you reach your fitness goals faster and help reduce injury due to more attention to the fine details. Your growth, even the smallest amount is most important to us!

Olympic weightlifting, functional strength training, along with bodyweight movements, metabolic conditioning and more are mixed together to improve strength, mobility, and conditioning. We welcome all abilities in the HI-PER™ class as we are master mechanics at scaling the workouts to your individual fitness abilities. HI-PER™ is a 60 minute class and is offered all week long, so dig in!