Shaun Trujillo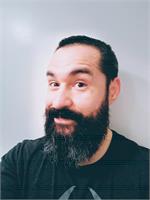 Shaun a.k.a. Mex is the Operator of Prana Vibe and is also the head Strength & Conditioning instructor. He has been a Crossfit instructor for several years and holds many certifications that are essential to enabling you to move your body safely while increasing power output and efficiency. He believes that people should be strong, both physically and mentally. Body mechanics are his forte and he has a knack for helping people develop better body awareness. People should always be able to move their own bodyweight, no matter the situation
Certifications
CrossFit Level 1
CrossFit Strong Man
CrossFit Gymnastics
CrossFit Movement & Mobility
CrossFit Nutrition with Robb Wolf
Thai Massage Certification through the Thai Institute of Healing Arts
Shaun Trujillo instructs the following:
The class that put us on the map and and has kept us there ever since! Learn how to truly embrace being uncomfortable and unlock your fitness potential. HI-PER™ is based in functional movements performed at high intensity. You will be pushed to YOUR limits and will meet or exceed all of your fitness goals. Small class sizes enable us to help you reach your fitness goals faster and help reduce injury due to more attention to the fine details. Your growth, even the smallest amount is most important to us!

Olympic weightlifting, functional strength training, along with bodyweight movements, metabolic conditioning and more are mixed together to improve strength, mobility, and conditioning. We welcome all abilities in the HI-PER™ class as we are master mechanics at scaling the workouts to your individual fitness abilities. HI-PER™ is a 60 minute class and is offered all week long, so dig in!