Ashtanga Yoga: Mysore Style
This class is taught by: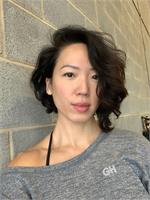 Virginia's yoga journey started 12 years ago. It started off as a simple curiosity which blossomed into a way of life.
Vinyasa found her, grounded her and transformed her. It came to her during a hard time in her life...getting out of a very difficult relationship, moving and illness.
At first, yoga was Virginia's means of healing her heart. Then, it became a physical challenge; a search for a deeper practice. Finally, she landed in her Ashtanga practice. It seemed balanced. Physically demanding. Mentally uplifting. Constant evolution and growth. Things off the mat started to matter more. Relationships with people, food and consumption meant something on a whole new level of consciousness.
Through Ashtanga tradition and evolution, Virginia hopes to inspire you to practice, practice, practice. It will seep into your life, making it strong, deep, and thoughtful.
Virginia trained under:
Kimberly Wilson, Tranquil Space
Patty Ivey, Down Dog Yoga
Baron Baptiste, BPYI
Shiva Rea
Jenny & Jason, AcroYoga
Tim Miller
David Kyle, It's Yoga Puerto Rico
Other factoids:
E-RYT
Extensive Baptiste trainings
Rocket Yoga Certified
Ashtanga intensives and immersions
Move at your own pace and level. Ashtanga is a traditional yoga practice with a set sequence that you learn gradually over time. Sounds pretty sweet right? If you're new to yoga, this may be a great place to start building your yoga practice. If you want to learn the Ashtanga method and already have a background in other styles of yoga, this is also a great place to begin. Practice for a newbie can be as short as 20 minutes. More seasoned practitioners may practice up to 2 hours. There is a wide range of levels and abilities in one class and all is welcome. It's like getting a private but in a group setting. What can beat that? All levels are welcome.
**IMPORTANT**
Show up anytime between the 2 hours as long as you finish by the end time.
Upcoming classes: